Hong Kong Foot Spine Assessment Centre
We offer you a range of professional services
Contact Us
Contact Us (852) 2311 5838
Hong Kong Foot Spine Assessment Centre
Re-align your walking posture with your custom-made orthotic insole
Customized insoles and their uses
Hong Kong Foot Spine Assessment Centre
Focus on your foot and spine health
We are committed to provide professional services and products.
We provide the most suitable foot/spine care advise and targeted solution, according to the foot condition and needs of individuals.
We are actively introducing a variety of quality foot/spine care products, including insole, comfort and functional shoes, and sporting goods.
Understand your foot/spine condition, foot muscle strength test Computerized foot pressure analysis. Fast and accurate, and the professional analysis of our orthotist, can determine the cause of your foot pain. In addition, we provide appropriate targeted solutions/recommendations.
Our professional orthotist will design the best and suitable orthotic according to the results of foot bio-mechanic assessment and we will recommend the shoe category, which suits you the best.
The patient and the hurts will be evaluated, then the prosthesis or orthotsis will be produced for him/her. Assembly and the adjustment will be done when doing fitting.
Our scoliosis brace provides lightweight, easy-to-wear/wear off, easy-to-cover and comfortable orthopedic support for patients with scoliosis. It can effectively control and improve scoliosis condition and degree.
Foot pain? Find out the cause of pain!
Call and make an appointment now! We are happy to serve you.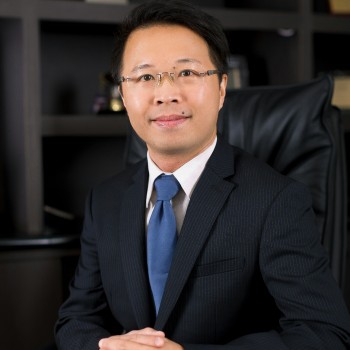 More than 10 years of clinical and manufacturing experience in orthopaedic and custom insoles in the private market Participated in the organization of Asian Foot orthopedic Training Course with Zhongshan University of Guangzhou In 2008, the Hong Kong Foot Ridge Inspection Center was established to provide tailor-made insoles, scoliosis, and other orthopaedic aids. Actively provide footwell health lectures and special courses for educational institutions and companies in different institutions, hoping to popularize the concept of ridge protection Writing columns for health magazines, interviewed on radio, television, newspapers and magazines, etc.
Mr. Law Hiu Fai Thomas
Prosthetist & Orthotist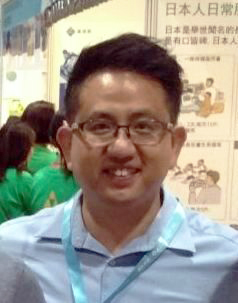 醫療科技 (榮譽) 學士(原來矯形及義肢 (榮譽) 學士) 曾在東區尤德夫人那打素醫院及明愛醫院工作 向私人醫院和診所提供外展矯正服務
Mr. Choy Ka Fai
Prosthetist & Orthotist
Registered Naturopathy Doctor Registered Multiple Intelligences (Dermatoglyphics) Analyst Parent-child game play therapy certificate ABNLP Mind language program practitioner ABNLP hypnotherapist
Mr. Hung
Registered Multiple Intelligences (Dermatoglyphics) Analyst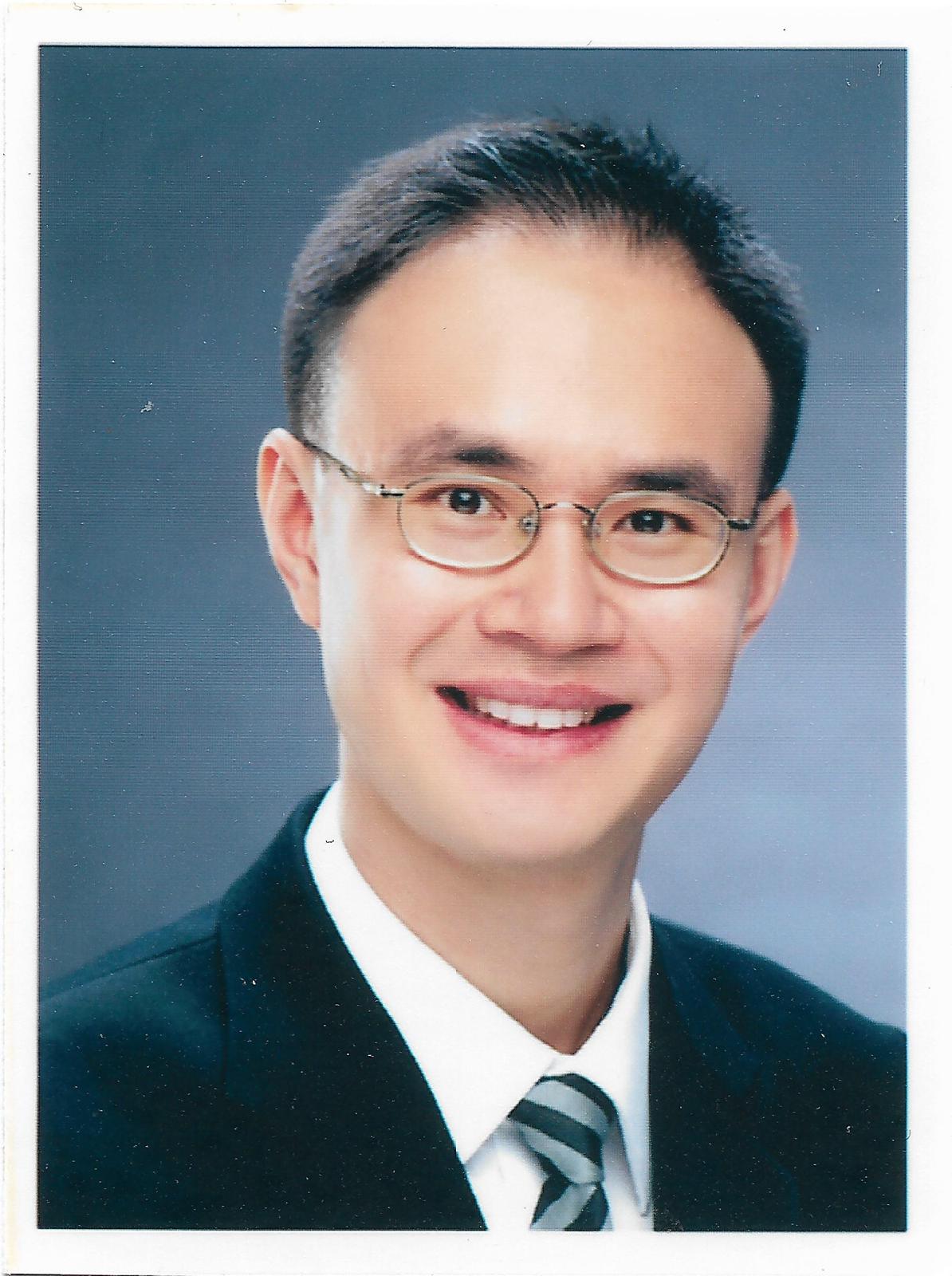 義肢矯形學(榮譽)理學士 醫院矯形師顧問
禤振邦 先生
Prosthetist & Orthotist
Hong Kong Foot Spine Assessment Centre
Case Sharing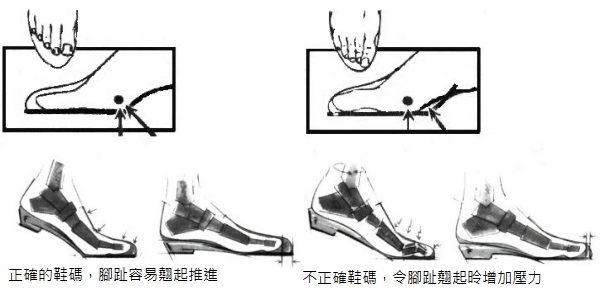 1. 鞋墊愈軟愈舒服 軟身的鞋墊,踩下去的第一感覺,99%的人都會覺得好正。正常腳型或有些許扁平足的人,不論本身有無痛症,穿著後起初數天會感覺舒適,但有部份人卻會之後愈著愈痛。原因是軟身的鞋墊提供了一個不穩定的接觸面給穿著者,容易令足部結構,以致步姿左右擺動。如足部有受傷組織,例如足底筋膜炎等,當走路時加大足底關節活動,會令傷患加劇,增加痛症。事實上,來我中心的客戶不少痛症都是穿著過軟身的鞋墊而造成。 2. 要買大一號的鞋去放鞋墊? 如果買大些鞋去放鞋墊,有兩個問題:第一,買大一號的鞋,會令鞋前掌翹步位易與腳不合,即腳址要更用力才可以屈起鞋前掌走路,這樣腳趾及前掌底部會容易產生痛症或變形問題 (如圖);第二,就算大一號鞋內空間大左,但鞋內深度淺左,即鞋後跟有機會包裹不到腳後踭,即容易會有"甩踭"情況出現。 3. 鞋墊愈貴,功能愈好 有時聽到個客埋怨:『我對鞋墊花左成千元買返嚟,唔知點解都會著到腳痛?』 這是一個不合邏輯的思考錯誤:鞋墊愈貴,就會著得愈舒服?貴價鞋墊,可能因為是外國名牌,用料靚,來貨價高;亦可能因為是包裝宣傳華麗,低成本的產品包裝到高價出售;但鞋墊不是手袋,某程度上是一種功能性產品。功能性是指製作物料、形狀都對穿著者有直接的關係。事實上,我見到坊間有不少價錢大眾化的鞋墊,性價比都很不錯,並非愈貴愈好的。 4. 哥哥/姐姐對腳大左,留返對鞋墊俾弟弟/妹妹著 這個概念,跟(大嘅著完的鞋留俾細嘅穿著)差不多。要知道,每個人的腳型肥瘦都唔同。哥哥當時啱著的,到弟弟穿的時候,可能因為腳形,例如扁平足的程度不同時,俾佢穿著可能會導致不適或壓力點出現的情況,而且,對鞋墊已經穿著一段時間後,已經有若干程度的損耗,不值得節省這些金錢在功能性的產品上。 5. 鞋墊著到爛左才買對新的 很難一概而論鞋墊要穿著幾耐才需要更換。一般現成鞋墊穿著壽命為幾星期到一年左右,而訂造鞋墊會久一點,大概1-2年左右,不過會有很多因素影響:鞋墊的物料、穿著者的體重、穿著的目的、穿著的頻密度等等。有很多人覺得著到爛左才買對新的,但這個不是一個很好的指標。鞋墊一般是有某個功能價值的,例如是吸震、承托、增加接觸面以保護足部等等。如穿著到某個時刻,感覺到有關功能消失,痛症回來等等,可能是時候換鞋墊了。其實最好的做法是帶回鞋墊給相關的專業人士評估是否仍合用。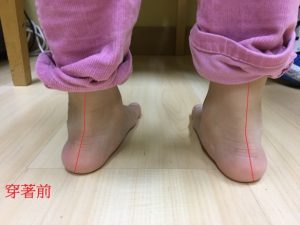 This children has pronated feet and knee varus. He is easy to fall. To correct the flat feet and improve his balance, orthotist give some advice: 1. Chose the shoe with better foot control like shoe with high heel cup. It can provide stability. 2. Do more exercise for training up the foot muscle. We suggest him to dance and rope skipping. 3. Wear the arch support insole to level up the arch and correct the flat feet.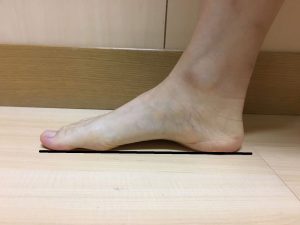 陳小姐工作上需長時間站立,受到蹠骨炎(前掌痛症之一)困擾已近十年。此外,她有明顯的高弓足(高足弓)問題,曾穿著坊間的現成鞋墊認為承托力不足。為了減輕陳小姐蹠骨炎的問題,矯形師作出以下的建議: 由於陳小姐工作上需長時間站立,建議選購有良好吸震功能,能對抗來地面的衝擊力,減低對足部的負擔。 蹠骨炎所引發的痛症問題已影響C小姐的日常生活和工作。物理治療能以手法鬆弛過度堅硬的足掌結構,以回復它的柔韌性來承受震盪。 配合訂造鞋墊,提供足夠的足弓承托,能有效改正異常的足部力學,平均分布足底壓力,減輕前足的痛症問題。